7 Textile Engineering College Admission Date has been announced by the Bangladesh Ministry of textiles and jute. On 26 October, the authority has announced the Butex 7 Textile Engineering admission test 2021.
Updates: 8 Textile Engineering College Admission Circular 2022
The Butex 7 college admission will be held at:
Textile Exam Date: 26 November, Friday, 10:00 PM

Textile Engineering College Admission Result: 27 November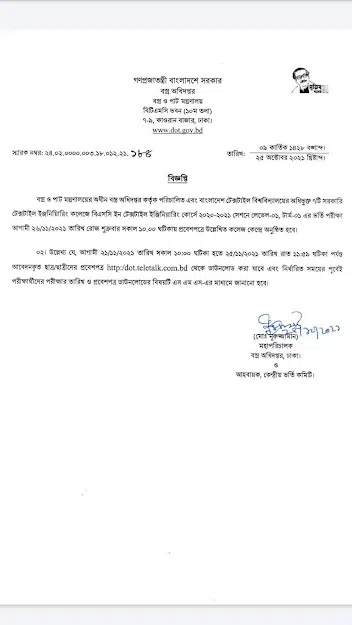 Bangladesh Ministry of textiles and jute controlled and the Bangladesh University of Textile affiliated 7 textile engineering colleges admission test Session 2020-21 at B.Sc. in Textile Engineering Course, L-1 T-1 postponed admission test will occur at 26 November, Friday. From 10.00 AM to 11.00 AM the examination time will take 1 hour on the designated engineering college on the admit card.
7 Textile College Admission Admit Card Download:
The deadline for downloading admit card of Butex affiliated 7 Textile Engineering Colleges will start from 21st November, 2021.
From now on Butex affiliated college admit card could be downloaded by uploading photo and signature. So, you can go to the given link and download the entry form with photo & sign up.
Download Textile Engineering College Admit Card from Here
However, if you are hesitant to do it yourself, you can go to the computer store and print out the textile engineering admission test admit card form through them.
According to the butex under 7 college circular, admission test admit card could be downloaded from 10:00 AM of 20.11.2021 to 11.59 PM of 25.11.2021. The Admit card could be downloaded from https://dot.teletalk.com.bd . The Candidate will be given short notice via SMS on his/her registered mobile number.
Above all, good luck to all.
This is Mahedi Hasan, a Textile Engineer, as well as a Top Rated content writer at Upwork, Level 01 Seller at Fiverr, Level 02 Publisher at Ezoic. A passionate textile ad fashion content writer, fashion SEO expert, and fashion web designer. Having a B.Sc. in Textile Engineering from Textile Engineering College, Noakhali (TECN). Department is Apparel Engineering. Highly Experienced fashion writer for the last 3+ yrs. Established Textile Details Website website to enhance professional Fashion Blogging skills. Extensive 7 years of experience on wholesale clothing business.