We all desire to stay dolled up and get dressed in our choice wearing our favourite colours and elevating our look with our favourite jewellery and accessories. However, for some reason, we might not be able to maintain that elevated look daily. You might opt for a casual look, especially when you are in a rush or opt for a low-key look and desire effortlessness with the basics.
Casual Outfits Ideas
Some people would believe that all it takes to put together casual outfits for women is to throw on whatever happens to be in your wardrobe. However, the reality is a little more nuanced. Untidy or awkward is not what we mean by casual. It denotes comfort and practicality while retaining style. For your convenience, we have brought the following casual outfit ideas that you can follow to elevate your look with just the basics.
1:  Make a Jeans Combo:
If you are among those who avoid jeans because they consider them boring and outdated, you need to rethink. Something like jeans is an evergreen casual wear, although to make it appear less boring, you can always look for combinations that might go well with jeans.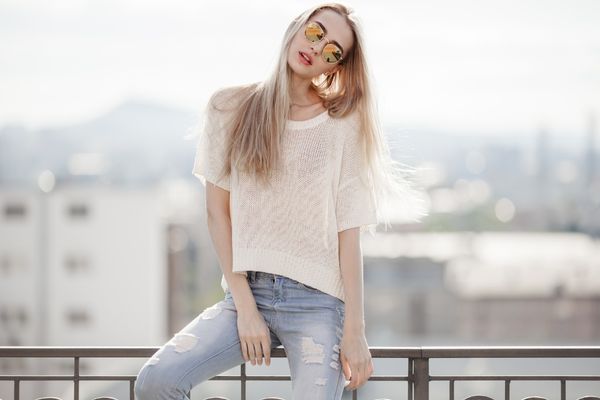 There are several ways to style jeans and complement them. Add a velvet jacket to your ensemble if the weather demands it. If you choose skinny ones, keep your look balanced by donning loose-fitting outerwear; you can also opt for baggy jeans and pair them with a body-fitted top or a turtleneck. If you possess a pair of straight jeans, you can pair them with a white button-down shirt, loafers and a denim jacket. The combo of ripped or straight jeans with a white casual shirt is renownedly ablaze.
2: Make a Denim Shirt Combo:
One go-to casual outfit idea is a denim shirt, a must-have item in every woman's closet. Who says that denim can only be paired with jeans, capris and skirts? Denim is quite stylish and adaptable.
You can don your denim shirt with a  pair of skinny jeans. Try tucking a t-shirt underneath the denim shirt, leaving the buttons undone. You can go for the high heels of your choice to complete this casual yet stylish look.
3: Casual Dress Outfits:
A black dress is a must-have item for every woman's wardrobe. You may think of putting on that stunning black summer dress for those events that are a little bit more formal. To complete your black dress look, you can don your favourite black heels and wear the least amount of jewellery. Some of the casual dress also includes patterned midi, which is great for summer and can be paired with heels and a stylish handbag.
Other casual outfit ideas in dresses include nap dresses. Nap dresses are among the outfits that can be worn indoors and even outdoors; they are famously known for giving a cute look and are ideal summer outfits. You can pair your nap dresses with flats, flip-flops or even casual sandals. To purchase affordable nap dresses, you can use Hill house home. You can use this code for some stunningly beautiful nap dresses for a casual summer look within a budget.
4: Monochromatic Casual wear:
You can opt for a monochromatic theme to add variation to your casual look. A monochromatic outfit is conversely stylish and looks great when donned. One should not be afraid of trying a white thematic outfit.
You can opt for various white hues to add some variation to your white outfit. You can opt for a white tank top or a shirt and pair it with jeans or white-colored bottoms, and you can also top it up with a white leather jacket or a denim jacket to add colour to it. You can wear casual sandals from the same colour spectrum to complete this look.
Men can complete this look by adding a pair of sunglasses of their choice, white sneakers, and a field watch.
5: Try a Patterned Dress and Sneakers Combo:
You can try wearing a patterned dress with sneakers to get a feminine casual look, and this is one of the looks that are conversely stylish and unique. Instead of hurting your feet with a conventional heels and dress combo, you can try this combo that would surprisingly make you look stylish.
6: Make a Cardigan Combo:
A Cardigan combination is a piece of clothing that one can rely on to complete the casual outfit look. You can match a cardigan with any top, crop top, or even a t-shirt. You can complete the combo by pairing this up with jeans, bottoms or even denim shorts.
7: Test the Versatility of Denim Jacket:
Denim jackets are versatile casual wear that can be combined with almost any outfit. Going with a conventional denim jacket and jeans is unnecessary; you can also pair them up with any shorts, leggings, and dresses, from midi to mini, to accentuate your casual daily look.
8: Use Trench Coats for Casual wear:
Trench coats are not something to be donned only in formal settings; trench coats can be worn casually. You can combine a trench coat with a slightly informal midi dress, and it can also be paired up with any top, including sweaters with jeans or bottoms. To complete this casual look, try a pair of sneakers or any other comfortable footwear.
9: Make the Most of Hats:
Hats are not something to be donned with dresses only; they can be paired with various outfits, including informal jeans or wide-legged bottoms with various kinds of tops. You can rely on wearing a beanie or cloche with any informal outfit to elevate your look and add style to your casual look.
10: Try a Frilled Tank top:
An affordable casual outfit idea includes pairing your favorite frilled tank top with skin-fitted jeans. The combination of a frilled tank top with jeans is an ideal one. An important thing to be considered is that something baggy and frilly should always be combined with something skin fitted. Do not opt for the mismatch by combining a frilled tank top with baggy jeans or wide-legged bottoms, as a mistake like this can ruin your entire look.
11: Utilize scarves:
Scarves are not a kind of accessory to be paired with jeans or worn only with winter outfits. These beneficial accessories can elevate a low-key and very basic look. You can wear and utilize scarves with just a simple shirt and a pair of jeans, and you can also try wearing scarves with shorts and a tank top. 
12: Pair Skirt with a Top:
Skirts similar to trench coats are not limited to only a formal look. You can utilize your favourite skirt by pairing it with a simple t-shirt o any top, and you can top this with any kind of leather or a denim jacket. You can opt for a cling purse or booties as footwear to complete this look.
Conclusion:
You can do a casual look comfortably daily without being prejudicial about its limit to only jeans and a tank top or t-shirt. Believe us; you can go beyond this typical combination. To get an idea of how to dress casually stylishly, you can use the above list of outfit combinations to elevate your casual look.
Author Bio:
Jhon Laim (jhonliam1252@gmail.com) is a content marketer who works for Affiliate Marketing – Discount and Voucher Deals Providing Platform. A writer by day and a reader by night; He is striving to make the most of the new opportunities that comes in his way and excels in everything he does.
https://www.instagram.com/textiledetails.blog/