Single Jersey Fabric Properties makes the fabric perfect for today's textile industry, especially in t-shirts, underwear, leisurewear, and sportswear. Today will know the behind the properties, which make the fabric so excellent to use.
[lwptoc]
What is Single Jersey Fabric?
Single jersey fabric is a single thickness of weft knitted fabric. It's used R-L plain knitting by one row of needles with refined grade raw yarn. The basic single jersey fabric properties have plain R loops on the front side and back L loops on the other.
Single Jersey Knit Structure
The single jersey has a flat loop on the top side and a reverse loop structure underwear on the bottom side. Therefore, the front and back sides have different appearances from each other. The front side is called technical front, and the backside is called technical back.
Popular single Jersey manufacturer like Sømdrøm Stoffbutikk produce knit structures in the form of tubes on the circular knitting machine. One row of needles pulls yarn through the loops from the technical back to the technical front to produce the subsequent row of loops.
These actions create just one layer of fabric; in this way, the name single jersey fabric comes from.
Difference between Single Jersey from Double Jersey
The horizontal edge of single jerseys curls while stretched, while double jersey fabric does not curl.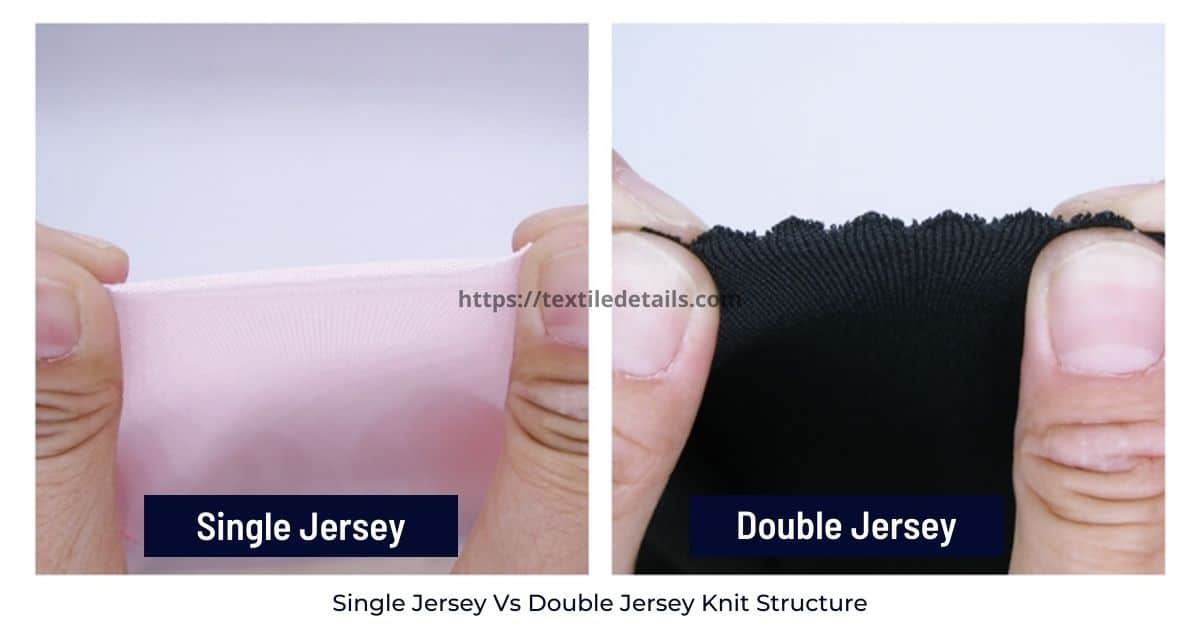 The Single Jersey Fabric Properties are as follows:
Single Jersey Fabric Properties
The front and back sides are different from each other.
Very breathable, Feels soft and light.
Stretchy, and easy to wear.
Sweat doesn't stay locked between apparel and the skin.
Easy to iron, and it is relatively crease-resistant
Has a curling tendency.
Has laddering problem.
Wider widths are obtained in a single jersey fabric.
Stretches approximately the same transversely and longitudinally.
Less patterning possibilities than in other knits.
Least amount of yarn used per unit area in production.
When cut, curls occur from the sides towards the back of the fabric and from the front and back towards the front of the fabric.
Has less tendency to wrinkle.
Yarn, or course, are unaltered from the start and end of knitting.
Has good extensibility in length and width in both directions.
Width-wise stretchability is usually much higher than length-wise stretchability.
The fabric shrinks 3-5%%. in width.
Fabric thickness is 2X the dia of the yarn used.
Fabric production is higher.
Less expensive.
Final Words
Single jersey knit fabric has various physical and chemical properties. But many properties can change due to the use of synthetic elastane fiber. The physical properties of single jersey knit fabric are changed. Such as Stitch density, GSM, Air Permeability, bursting strength, Pilling, Shrinkage Spirality, Yarn Loop length, Course Spacing, Wale Spacing, course, wales, Bursting Strength, and so on. These all made it an excellent and versatile spandex knit fabric.
The fabrics from spandex/ Lycra yarns have the most significant tension values under a constant draw ratio, giving the highest weight, wales per cm, courses per cm, stitches per cm, thickness, and lowest air permeability values.
The width of the fabric decreases, and at the same time, the thickness of the fabric increases. Consequently, The wear comfortability of outer clothing, underwear, leisurewear, babywear and sportswear is generally ensured by using fabrics knitted from spandex or lycra.
This is Mahedi Hasan, a Textile Engineer, as well as a Top Rated content writer at Upwork, Level 01 Seller at Fiverr, Level 02 Publisher at Ezoic. A passionate textile ad fashion content writer, fashion SEO expert, and fashion web designer. Having a B.Sc. in Textile Engineering from Textile Engineering College, Noakhali (TECN). Department is Apparel Engineering. Highly Experienced fashion writer for the last 3+ yrs. Established Textile Details Website website to enhance professional Fashion Blogging skills. Extensive 7 years of experience on wholesale clothing business.