When you start a clothing business, finding the best wholesale clothing vendors to start a Business is crucial. Every clothing business frequently resorts to wholesale suppliers to boost bottom lines and expand profit margins. Your clothing business strategy significantly impacts where you may locate a wholesale supplier.
If you can keep the price of your clothing items cheaper while making a minimum profit per sale, your business will bloom in no time.
You will also want to ensure your company is in excellent hands while you grow your business by connecting with trustworthy vendors. For your convenience, we have compiled a list of wholesale clothes sellers. You can rely on these businesses to give your company the most excellent choices in fashion trends.
So, we will discuss all the best wholesale clothing vendors to buy from to start a business.
Wholesale clothing vendors to start a Business
It is pretty easy to find clothing vendors that sell wholesale items. All thanks to the invention of the internet, finding such places has become easier. Contacting the sellers and discussing the pricing or your needs is also pretty easy.
Explore this list of the top 12 Best wholesale clothing vendors to start a Business. You will get an insightful compilation of knowledge to help you grow as we highlight the Best Wholesale Clothing Suppliers. And you can choose any one supplier from this list to get the best quality clothing to run your business properly.
We will discuss some of the best wholesale clothing vendors you can purchase from.
1. Paperdoll Wholesale 
Paperdoll Wholesale is another ideal clothing wholesale vendor to start a clothing business. The company selects and collects clothing from various manufacturers, which then wholesales the clothing worldwide. By offering you a fantastic assortment of the newest and trendy clothing, this supplier promises to relieve your tension.
Children, men, and adults may all shop for apparel at Paperdoll Wholesale. Each division offers a wide selection of shirts, bottoms, and outerwear for that target demographic.
m them at a good price from different parts of the world. You can find clothing items for men, women, babies, children, plus-size or petite. Not just that, a different category of clothing items is also available, which means you can expand your clothing business.
2. Catwalk Wholesale
Catwalk Wholesale is the leading women's wholesale clothing supplier in the UK. Catwalk Wholesale is an apparel wholesale vendor where you may find fashionable clothing with all the newest products. Dresses, jumpsuits, loungewear, shrugs, blouses, shorts, and activewear are all included in its collections.
All its clothing and apparel products are premium in quality. Regardless of the season, you can count on this company to supply you with the newest, most fashionable wholesale apparel. Add the newest women's fashion wholesale apparel from Catwalk Wholesale to your store's inventory.
3. Tasha Apparel
Tasha Apparel is the perfect option if you seek a dependable supplier of women's wholesale clothes. It is a leading provider of apparel to shops in the US. Their collection covers, Dresses, Outerwear, Jumpsuits, Skirts, Sweaters, Bodysuits, plus size clothing, and much more.
For purchases above $300, shipping inside the United States is free. If Dropshipping fits your company model better, they also provide that service. Overall, Tasha Apparel is the ideal alternative for you if you intend to focus on selling women's apparel.
4. Zaful
Zaful is one of the best wholesale clothing vendors in China. The unique feature of this Chinese boutique apparel supplier is that it has a staff dedicated to doing market research to identify the most recent fashion trends. Its reasonably priced collections focus on redefining trends, fantastic quality, and excellent design to meet the demands of every ambitious fashionista.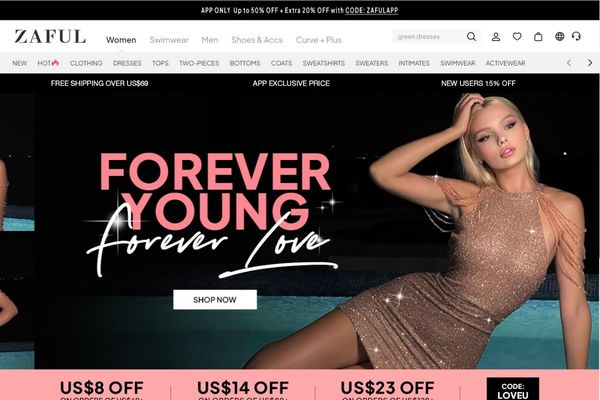 Zaful provides you access to a broad selection of Chinese wholesale clothes, covering both men's and women's clothing. This firm produces a large range of in-demand, high-quality, and reasonably priced clothing and can send it freely and quickly worldwide.
5. Boulevard Apparel
Boulevard Apparel is one of LA's most reliable and reputed wholesale clothing vendors. This company also manufactures and wholesale clothing for men, women, and kids. The Boulevard Apparel Company manufactures premium quality clothing and has a fantastic assortment in every category.
Because they concentrate on purchasing liquidated goods at great discounts, their clothes are offered at a 40–80% discount. Boulevard offers free delivery on all US orders over $299 and offers worldwide shipping. Overall, this wholesale clothing vendor is the best to start your clothing business.
6. Belle wholesale
Belle Wholesale is a reputed and reliable women's clothing wholesaler in China. It has committed to providing consumers worldwide with exclusive fashion items. This business has always prioritized women's opinions and has forged close relationships with customers who are passionate about style.
It has apparel from many brands, so there is a huge range. This company won't let you down if you need dresses, cardigans, shirts, tracksuits, swimwear, or intimate items. If you want to start a women's clothing business, this wholesaler will be your best option.
7. Heart and Hips
Heart and Hips is the last best wholesale clothing vendor on this list. It is a reliable women's wholesale clothing source with the largest selections. This wholesale clothing vendor offers a simple online shopping platform through which you may get fashionable wholesale women's apparel from them from the convenience of your home.
Heart and Hips promise to ensure leading customer services. They manufacture high-quality clothing products and wholesale those clothing worldwide. They offer wholesale apparel that is stylish, current with trends, and competitively priced. As a result, you will receive exquisite clothing at the lowest wholesale costs.
8. City Goddess
Searching for trendy women's clothing at an affordable price point? Look no further. City Goddess offers all the high-style trendy women's clothing that is so much in demand. There are many styles to choose from which will bring variation in your business's stock items.
Not only clothing, but you will also find accessories and shoes that are in demand at a good price. Dresses from going out or formal all can be found on this website. They ship internationally, which is a plus point, but you must order over $150. The best part about them is that you can also order individual units.
9. OrangeShine
Most wholesalers cater not only to women's clothing, but they have a wide range of clothing items for everyone. This is good for the business as it allows you to have more customers, leading to more sales and profits.
Men and children will also find their desired items in this shop. Not just that, but women will also be able to find accessories and beauty products from OrangeShine. The brand is based in LA, but they ship all around the world. You will find all the latest clothing collections from them.
10. Zaasmart
This online wholesale clothing brand is based in India. Residents living in India or around India can purchase from them without paying a high international shipping fee. They carry items for women, men, and children, allowing them to attract more customers. If you want to order jewelry or any accessories, they also have those.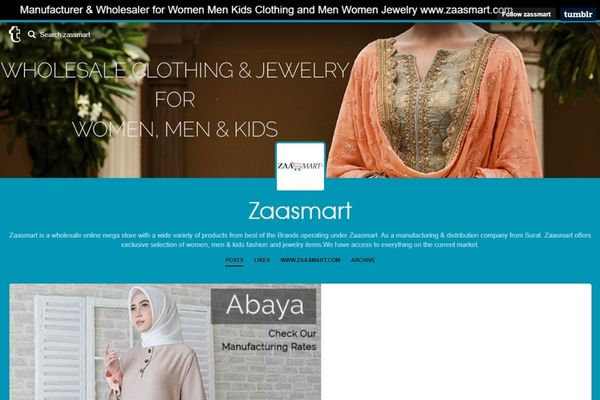 The best part is that they have a mobile app or website, so you do not have to face any casualties. Sometimes they provide discounts or special discounts on some products, which is a huge steal.
11. Chase USA International
This brand has a wide range of wholesale items for women, men, and children. When you go to their website, you might think that they mostly cater to kids' clothing, but that is not the case. Their stream of new arrivals is very consistent, meaning you will always find new clothing from their shop.
In California, they have their own store, allowing customers to choose items directly. Otherwise, they have a big website, where most of their sales happen. The minimum order limit for this brand is $50 or 12 units.
12. Alanic
If you want to start a business for activewear items, Alanic wholesale vendor will provide you with all your needs. For the gym, outdoors, or playing sports, they have all the products anyone wants.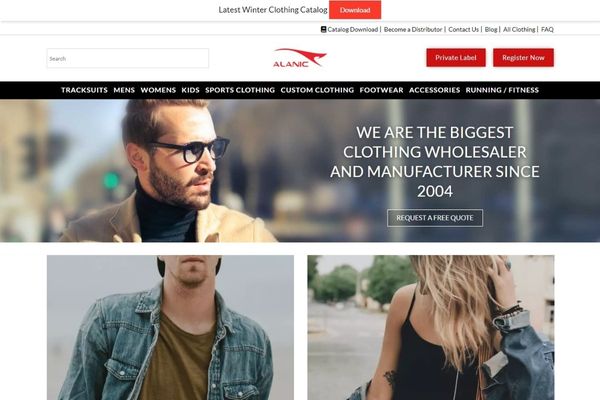 Apart from that, they also have wholesale clothing items for men, women, and kids. Besides activewear, you can also order casual clothing options from this brand which is a good option for people that wants to sell activewear and casual wear together in their shop. Not just that, you can also avail of custom clothing and private labeling from their website.
You may also like the following:
Final Words:
If you are seeking a reliable source of wholesale clothing to start a business, these 9 Best wholesale clothing vendors to start a Business. These sellers are the best if you're looking for the newest apparel styles at reasonable costs with prompt, effective shipping. All these wholesale clothing vendors are reliable and manufacture and supply high-quality clothing. So, you can blindly rely on them to get the best clothing and apparel products for your clothing store.
That is why you should get your items from the best wholesale vendors, which cater to various items and will not handle your stuff which will incur a loss. We hope this article has given you enough information about which clothing vendors to buy from.
This is Mahedi Hasan, a Textile Engineer, as well as a Top Rated content writer at Upwork, Level 01 Seller at Fiverr, Level 02 Publisher at Ezoic. A passionate textile ad fashion content writer, fashion SEO expert, and fashion web designer. Having a B.Sc. in Textile Engineering from Textile Engineering College, Noakhali (TECN). Department is Apparel Engineering. Highly Experienced fashion writer for the last 3+ yrs. Established Textile Details Website website to enhance professional Fashion Blogging skills. Extensive 7 years of experience on wholesale clothing business.