Some best textile apps abound in the Google Android Play Store. Visitors can choose from a variety of features offered by each of them. It very helps to get access to the best textile learning websites easily to students as well as professionals. You may not need to pay to import the Textile software to your mobile computer.
We've compiled a list of the best textile apps available on Google Play. You can quickly type the names of these apps into your Android device's search bar and get them downloaded to your computer.
10 Best Textile Apps:
1. Textile Learner
Textile Learner is the internet's largest and best textile website in the world. As well as one of the most popular best textile apps. It is the most comprehensive resource for textile students and practitioners. It aids in the updating of textile and apparel-related information among textile students, professors, entrepreneurs, scholars, and everyone else interested in learning about textiles from A to Z.
Rating: 4.5 [104 reviews]
Downloads: 10,000+
One of the best textile apps was developed with the intent of providing you with accurate and valuable knowledge about the clothing and garment industry. It's similar to a group blog. On this site, you can post textile-related posts, assignments, thesis papers, PGD reports, news, and every other analysis from anywhere in the world. It can be said that it is one of the best textile apps in the world.
2. Textile Details
The primary goal of Textile Details is to become the world's leading textile influencer. It will serve as a reflection of international textile, footwear, and lifestyle trends. Textile Lover is a great way to start a family. Textile specialists can be found all over the world. Textile Details will establish it as the World's Largest Textile Community for Textile Enthusiasts. This best textile apps has been released recently.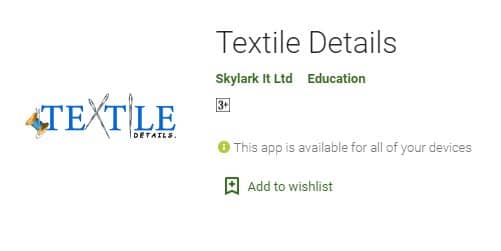 Their short-term aim is to keep it updated on a daily basis and transform it into a potential textile learning center. Textile Details apps are functioning as textile fireflies in the face of any textile-related problem. Textile flowcharts, calculations, and technological issues will discuss in the immediate future. They're aiming for teachers, beginners, and experts in the textile industry.
3. HELLO TEXTILE
HELLO TEXTILE is the world's most significant B2B and social media platform dedicated to textile manufacturing. This textile application is all about textile sales and purchases; it will help you locate tens of thousands of customers and manufacturers of the textile industry, from raw materials to finished products worldwide. This textile app puts the textile industry at your fingertips; selling and buying all types of textile fabrics at the lowest price has never been easier.
Rating: 4.6 [250 reviews]
It is beneficial to professionals who work in the textile industry or who market and purchase textile products such as yarn, fibre, and fabric, machine tools, dyes, chemicals, as well as other textile-related products. It is the best textile apps for textile professionals, especially for businessmen.
4. Garment Textile Fashion News
With just a tap, the Fabric Textile Design News apps provide insightful alerts on global happenings, business movements, emerging trends, and upcoming innovations in the garment textile-wear industry. This apk textile apps offers regular updates and perspectives into the clothing, footwear, design, and retail sectors.
Rating: 4.5 [580 Reviews]
The textile application is easy, quick, and convenient to use so that you can get crucial information about the textile supply chain at any time and in any place. This app has unique features such as choice, which allows you to read and exchange news that interests you; it is also simple, allowing you to quickly turn to new headlines and obtain additional details. It is the best textile app for garments, textiles as well as fashion news.
5. Global Apparel Forum
Apparel, Retail, and Textile Industry for you to keep up to date on current events. We have them wrapped and shipped, whether it's the new federal policies or a shuffle of top management at an Apparel Brand. Fibre2Fashion, Apparel Resources, Only Style, Business of Fashion, Economic Times, Fashion United, and other publications have news stories.
This Application is useful for people who work in the textile industry or who sell and buy textile goods like cotton, linen, wool, thread, synthetic fibers, sustainable fiber, fabrics, machine tools, dyes, chemicals, and other textile-related things. It is the best textile apps for buyers as well as sellers.
6. Textile Dictionary
Textile is a crucial concept in our everyday lives. As a result, everybody should have a basic understanding of textiles. Textiles have been used for covering, warmth, and showing personal riches since the dawn of time. Textiles are ultimately consumed by us. Textiles can be understood by the car industry, dressmakers, department store clients, and students learning these topics.
Rating: 4.5 [616 reviews]
Downloads: 10,000+
Install
The Textile Dictionary will assist you in determining the most popular textile word. You may use this tool to look up and display pictures associated with specific terms. There are several textile-related reference books available here. You can learn textile-related books from this app when you have free time. There are a lot of short-form definitions and descriptions. Textile Dictionary is the best textile apps for the basic understanding of textiles.
7. Textile eBook
Textile eBook is the perfect platform for students and professionals of textile and fashion design to upload and download free eBooks on textile, fabric, and fashion. The aim of this textile android application is to provide you with reliable and valuable information about the textile and garment industry.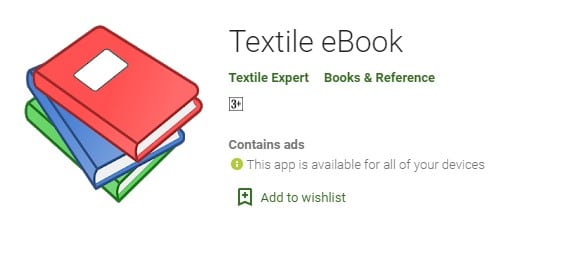 The aim of this textile apk is to provide you with reliable and valuable information about the textile and garment industry. It is easy, quick, and convenient to use, allowing you to access vital details about the textile supply chain at any time and from any location. Professionals in the textile industry, as well as others who sell and buy textile goods, may find it helpful. It can be said that Textile eBook is the best textile apps for students and learners.
8. Textile Duniya
Are you concerned that your prototypes will be replicated by your competitors? Then don't be concerned. Textile Duniya gives you the option of displaying the price and images of your goods to the general public or only your company contacts. In order for you to be able to run your company the way you want this apk textiles version.
Rating: 4.5 [110 reviews]
With a few taps on your smartphone screen or a few clicks on the desktop, you can maintain and showcase your goods to the world. Textile Duniya also provides the ability to identify the garment's characteristics so that buyers searching for the kind of product you're offering can quickly find you using their Advanced Search Options. Textile Duniya is the best textile apps for textile buying and selling.
9. Texperts
Texperts also developed a forum for real-time knowledge exchange specifically for the textile industry. Receive an immediate notification anytime the latest news throughout the textile industry creates a stir.
Rating: 4.4 [111 reviews]
Stay ahead of the curve and strengthen your decision-making abilities. These textile mobile apps allow you to access essential price updates on the go, which is critical for any company owner, retailer, or broker. Texpert is the best textile apps in the play store to know about real-time data of the textile industry.
10. Textile
If you're looking for a textile app to help you learn more about the textile industry and its operations, the Textile apk is a fantastic option. Use the app to learn more about textile mechanisms, manufacturing processes, various aspects of technical textiles, machinery used to manufacture a specific type of cloth, dyeing and printing processes, and so on.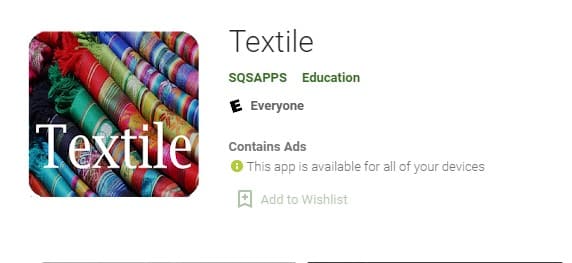 It will be a lifesaver application for people who are entering the textile business and want to learn more about the industry. Textile mobile applications are made by keeping the end-users in mind. It is a kind of article-sharing best textile apps that talks about all the terminology used in the textile industry.
You may Like also: Top Websites to Shop for Clothes Lists
This is Mahedi Hasan, a Textile Engineer, as well as a Top Rated content writer at Upwork, Level 01 Seller at Fiverr, Level 02 Publisher at Ezoic. A passionate textile ad fashion content writer, fashion SEO expert, and fashion web designer. Having a B.Sc. in Textile Engineering from Textile Engineering College, Noakhali (TECN). Department is Apparel Engineering. Highly Experienced fashion writer for the last 3+ yrs. Established Textile Details Website website to enhance professional Fashion Blogging skills. Extensive 7 years of experience on wholesale clothing business.