Postgraduate or PG Diploma in Textile Program has been Announce by Butex. How to admission into PG Diploma in Textile Industry Management easily, we will talk details about it in this context with hole process and the eligibility criteria areas.
[lwptoc]
Textile Industry Management Training
Executive Development Centre EDC has been offering Postgraduate Diploma in Textile Management. The People's Republic of Bangladesh, Under Skills for Employment Program SEIP, the program is sponsored financially.
Read New Circular: Postgraduate Diploma in Textile Industry Management 2023
A Postgraduate Diploma in Textile Industry Management is a course that teaches you the skills to manage the textile industry. This includes understanding how international trade works, and how to use supply chain management techniques.
You will also learn about the legal requirements of running a business in this field, as well as learning about marketing strategies for textile companies. The objective of pgd course in butex, to develop future world-class leaders for the textile industry.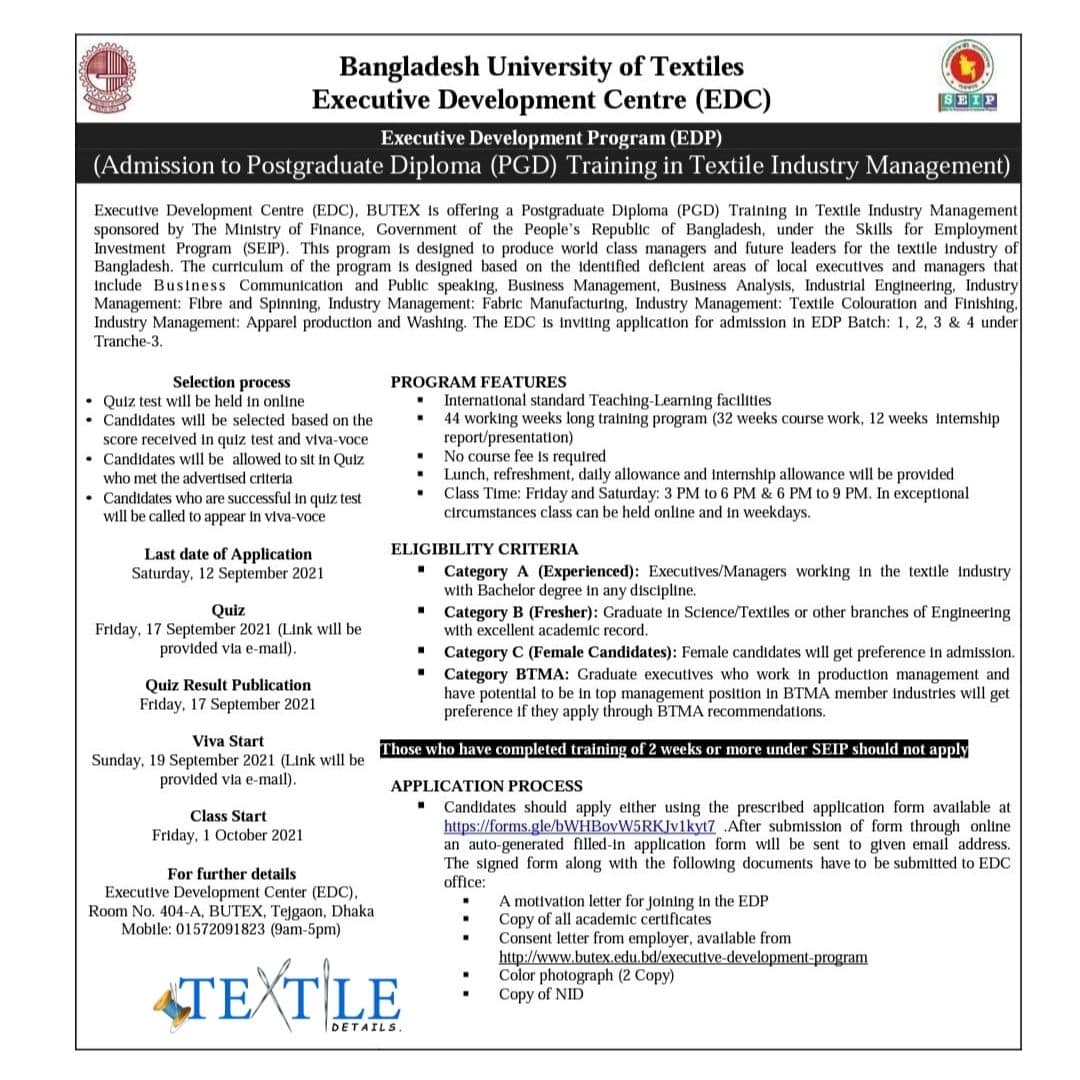 The PG Diploma in Textile Industry Management program is a taught postgraduate course designed for professionals who are currently undertaking or have completed professional qualifications. But lack the industry-specific knowledge required to take their careers further.  It provides an ideal opportunity to upgrade skills and learn new techniques through intensive study combined with practical experience in your chosen field of textile.
The curriculum of EDP is dedicated to the identified deficient areas of Textile Executives and Managers. Which are included to develop:
a. Personal Communications Skills:
Public speaking, factory management, and business analysis. ­
b. Industrial Management Ability:
In the field of fibre and spinning, fabric manufacturing, Fabric Manufacturing, Industrial Engineering, Textile Colouration, and Finishing, Apparel Production Process, Washing, and so on.
c. Industrial Soft-Skills:
HRM, Leadership, Operation management, Financial management, marketing, supply chain, strategic planning, textile studies and product development, Compliance and CSR, Environment Management, etc.
"The EDC is inviting applications for admission in EDO Batch 1,2,3,4 under the Tranche – 3"
PG Diploma in Textile Industry Management Program Features: 
International Standard Teaching Learning Facilities.
44 Working Weeks long training program
32 weeks course work, 12 weeks internship report/ presentation.
It is a free course powered by EDP.
The candidate will receive Lunch, Refreshment, and Conveyance as well as an Internship allowance.
Class: Friday and Saturday 
Time: 03–06 pm and 06–09 pm.
Note: In exceptional circumstances, the class could be held online and on weekdays.
Executive Development Program Selection Process:
A quiz test will be held online.
The candidate will be selected according to the score received in the quiz test and viva voce.
Candidates who are allowed to sit in the Quiz test met the advertised criteria.
Short-listed Candidates would be successfully passed on the quiz test would be asked for viva voce.
Only candidates would be called for the viva voce.
Admission into to EDP's pgd course in Butex
Last Date of Application: Saturday, 12 September 2021
Quiz: Friday, 17 September 2021 (Link will be provided via email)
Admission Result Published: Friday 17 September 2021
Viva Start: Sunday, 19 September 2021 (Link will be delivered via email)
Class Start From: Friday, 1 October 2021
Requirements of PG Diploma in Textile Industry Management
| | | |
| --- | --- | --- |
| Categories | Preference | Eligibility Area |
| Category A | A Manager or Executive. Who has been working in the textile industry with a Bachelor's degree. |    Experienced |
| Category B | Graduate in Science or Textiles. Or other branches of Textile Engineering with Excellent Academic Record. |    Fresher |
| Category C | Female candidates will get preference in admission. |    Female Candidates |
| Category D | Graduate executives who work in production In BTMA member industries. They will get preference if they apply through BTMA recommendations. |   Category BTMA   |
 N.B: People who have previously completed training of 2 Weeks under the SEIP may not Apply.
Postgraduates in Textile Application Process:
Candidates have to apply for the application form by using links [https://form.ge/bWHBovW5RKJv1kyt]
The email address provided will receive an automated filled-in application form after the form has been submitted online.
Document needs to submit to EDC:
Motivation Letter to join the EDP.
All academic Certificates are Copies.
Copy of NID.
Consent Letter from employer (2 color Copies). 
Available format at:
To know Addtional Details about pgd course in butex
EDC, Room No. 404-A.
Bangladesh University of Textile, Tejgaon, Dhaka
Phone: 01572091823 (9 am to 5 pm)
EDP Circular PDF File:
https://www.butex.edu.bd/wp-content/uploads/2019/05/EDP_4th-intake-Advertisement_final.pdf
You May Like:
This is Mahedi Hasan, a Textile Engineer, as well as a Top Rated content writer at Upwork, Level 01 Seller at Fiverr, Level 02 Publisher at Ezoic. A passionate textile ad fashion content writer, fashion SEO expert, and fashion web designer. Having a B.Sc. in Textile Engineering from Textile Engineering College, Noakhali (TECN). Department is Apparel Engineering. Highly Experienced fashion writer for the last 3+ yrs. Established Textile Details Website website to enhance professional Fashion Blogging skills. Extensive 7 years of experience on wholesale clothing business.