The textile industry has been booming in Africa over the last few years due to its vast potential for growth among African countries such as Nigeria, Kenya, Zambia, etc. Also, the textile manufacturing sector is one of the most significant industries in Africa―with a large number of workers and a substantial contribution to the national economy.
Globally, African textiles and garments are in high demand, and African patterns have become iconic pieces. Fashion clothing lines around the world are incorporating more African influences into their collections. Let's know what is the opportunity and challenges in the African textile industry.
Textile Industry in Africa
Despite the diversity of the African textile market, cotton seems to be the most consistent material in the country. 6 countries produce cotton under the label "Cotton made by Africa," which is one of the largest job producers, employing over 450,000 Africans in the cotton industry. Additionally, South Africa has become involved in technical textiles by supplying hemp to aeronautics companies.
African Textile Industry Opportunities
African styles, fabrics, and apparel are in high demand within and outside of the continent. A number of significant mohair products are also produced in South Africa, including leather. Alternatively, sub-Saharan Africa currently consumes USD 31 billion worth of clothing and footwear. African textiles are predicted to experience a CAGR of about 5% from 2019-2024, which will require more textile agencies to be established. According to the Chiang Rai Times, such criteria can increase from one year to another. But the number depends on different factors and predictions are not too clear without paying attention to them.
A growing market for textiles and a new labor source are attracting international textile manufacturers to Africa. It is evident that Africa has a growing role in the global fashion value chain. And it must industrialize rapidly to take advantage of it.
So, exporting finished fashion products rather than raw materials vulnerable to market fluctuations is the way to go instead of exporting raw materials and importing second-hand clothes.
And Africa has already taken a step toward industrialization. One of the best examples is Ethiopia. By 2030, the country aims to generate USD 30 billion in export revenue from the African textile industry. So it is building industrial parks to increase textile production and productivity. Also, developing a heavy industry that will enable it to industrialize by 2025 completely.
Fashionomics Africa Report from The Bank estimates that almost 80% of Ethiopia's apparel workers are women. Ethiopia is not the only country on the continent growing its garment industry. Other countries include South Africa, Madagascar, Mauritius, and other North African countries.
Challenges to African Textile Industry
There are great opportunities to produce cotton competitively and achieve equitable prosperity in Sub-Saharan Africa, a diversified region rich in natural and human resources.
However, there are some significant challenges that the sector faces. Observations and data indicate that African textile companies import substantially more than they export. Accordingly, the territory is incapable of satisfying its internal needs, in contrast to other emerging economies at comparable levels of industrial development.
Transport infrastructure and poor roads have long been obstacles to trade in Africa, preventing the development of supply chains and textile markets.
By 2025, the African Development Bank estimates the continent will need $130 billion-$170 billion in infrastructure investments such as roads and railways.
One of the other challenges is the lack of skilled workers in the industry. The lack of skilled labor can affect production efficiency, which will ultimately reduce profits for manufacturers and ultimately lead to the loss of jobs for both workers and investors.
In addition, the absence of regulatory standards for this industry and its lack of knowledge about best practices makes it difficult for companies to grow and succeed in a competitive environment.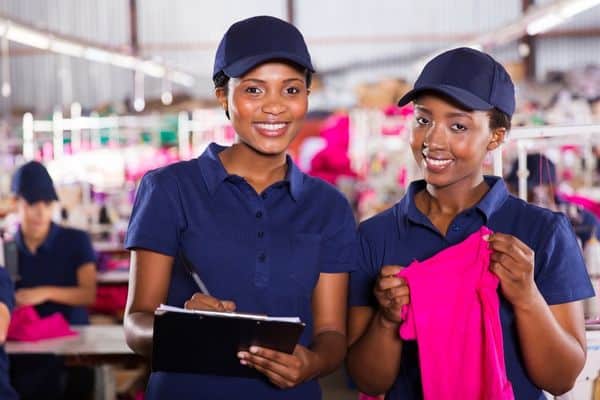 In order to overcome these challenges, it is necessary for Africa to take advantage of professional engineering services. The importance of textile engineers in the Textile Manufacturing Sector in Africa is paramount.
Professional textile engineers are specialized in providing services related to construction or management, such as designing buildings and managing construction projects.
  Textile engineers can help African textile industries to manage their businesses by providing them with solutions that will improve their operations and increase their profits.
They will develop plans to address poor quality control procedures and inefficient production processes.
Professional engineers are experts in their fields—they know what it takes to create safe working conditions for workers and how to create efficient systems that will cut down on waste while improving productivity.
They also understand how to minimize risk by ensuring that all processes are thoroughly inspected before they go into production. Professional Textile Engineer Services can boost any African textile industry by helping them to expand their operations or improve their current ones.
What is a Textile Engineer?
Textile engineers are the people who make sure that the textiles that textile mills manufacture are of high quality. A textile engineer can work in various roles since textile engineering encompasses many manufacturing areas.
What is the Importance of Textile Engineers in Textile Industry in Africa?
Textile Engineers in Textile Industry in Africa may be responsible for the following tasks:
1. Textile engineers for Textile Industry in Africa, ensure that the fabrics produced by these mills are fit for use in the modern world and meet or exceed all international standards.
2. They do this by designing new processes to improve quality and efficiency while also helping to improve existing ones.
3. They also work with other engineers to develop new products, such as textiles that can be used in medical textile applications.
4. These textile professionals can develop new fibers and test synthetic or natural fibers to determine which materials are suitable for a wide range of products.
Fabric engineers may select raw materials to use for fabric creation and then coordinate their procurement with suppliers.
In addition to this, textile engineers also help manufacturers reduce costs and increase productivity through automation technology. The process is automated by using technology such as software and mechanical systems such as robotics.
The importance of textile engineering for African textile companies is two fold:
Firstly, it helps them improve their bottom line by reducing costs and increasing productivity.
Secondly, it helps them compete against foreign competitors who have access to cheaper labor than they do at home, which makes them less competitive globally.
Conclusion
While the African textile industry faces many challenges, it also enjoys several advantages, such as natural resource access. Different cotton production, low wages, and a large population provide an ideal environment for Africa's textile and clothing industries to thrive.
The textile industry in Africa has much growth potential as it can be easily upgraded using modern technology and equipment. In addition, professional textile engineering services can help improve production efficiency and quality control by providing advanced technology solutions for manufacturing.
author biography
After cooperation with the different manufacturers, Amir Jones decided that field service engineering services are efficient for the nowadays industry. Moreover, it is very interesting to write about it. So, he helps to clarify the basic principles and details of the process in such a way today, enjoying the process of writing and assisting people.
This is Mahedi Hasan, a Textile Engineer, as well as a Top Rated content writer at Upwork, Level 01 Seller at Fiverr, Level 02 Publisher at Ezoic. A passionate textile ad fashion content writer, fashion SEO expert, and fashion web designer. Having a B.Sc. in Textile Engineering from Textile Engineering College, Noakhali (TECN). Department is Apparel Engineering. Highly Experienced fashion writer for the last 3+ yrs. Established Textile Details Website website to enhance professional Fashion Blogging skills. Extensive 7 years of experience on wholesale clothing business.